Specification for 7*37 (6*37+IWSC) stainless steel wire rope
Con.str
Diameters
(mm)
Appro weight.
EN12385-4
DIN3066
KG/100meters
Mill. Breaking Load(KN)
Mill.Breaking Load(KN)
1570MPA
1770MPA
1960MPA
1570MPA
1770MPA
6*37+IWS
7*37
4.0
6.56
7.99
9.00
9.98
7.99
9.00
5.0
10.25
12.50
14.10
15.60
12.50
14.10
6.0
14.76
18.00
20.30
25.50
18.00
20.30
8.0
26.24
32.00
36.00
39.90
32.00
36.10
10.0
41.00
50.00
56.30
62.40
50.00
56.40
12.0
59.04
72.00
81.10
89.80
72.00
81.20
14.0
80.36
97.80
110.40
122.20
98.00
110.00
16.0
104.96
127.90
144.10
159.60
128.00
144.00
18.0
132.84
161.80
182.40
161.80
182.40
20.0
164.00
200.00
225.20
200.00
225.20
22.0
198.44
241.70
242.00
273.00
24.0
236.16
287.70
288.00
325.00
26.0
277.16
337.60
338.00
381.00
28.07
321.44
392.00
394.00
442.00
Dia
30.0mm-50.0mm
(6*37+FC)
Con.str
Diameters
(mm)
Appro weight.
EN12385-4
DIN3066
KG/100meters
Mill. Breaking Load(KN)
Mill.Breaking Load(KN)
1570MPA
1770MPA
1960MPA
1570MPA
1770MPA
6*37+FC

4.0
6.08
7.99
9.00
9.98
7.99
9.00
5.0
9.50
12.50
14.10
15.60
12.50
14.10
6.0
13.68
18.00
20.30
22.50
18.00
20.30
8.0
24.32
32.00
36.00
39.90
32.00
36.10
10.0
38.00
50.00
56.30
62.40
50.00
56.40
12.0
54.72
72.00
81.10
89.80
72.00
81.20
14.0
74.48
97.80
110.40
122.20
98.00
110.00
16.0
97.28
127.90
144.10
159.60
128.00
144.00
18.0
123.12
161.80
182.40
161.80
182.40
20.0
152.00
200.00
225.20
200.00
225.20
22.0
183.92
241.70
242.00
273.00
24.0
218.88
287.70
288.00
325.00
26.0
256.88
337.60
338.00
381.00
28.0
297.22
392.00
394.00
442.00

Quality assure of stainless steel wire rope:
1),Basic guarantee:
Raw material guarantee,we use the Tsingshan Brand raw material,the quality is good,adding we use the spectrum direct-reading test,our professional workers &equipments,we could guarantee the tubes is right of the clients' needs.
2),Process control:follow the process chart adding our workers' care
3),Inspection& Test
Direct-reading Spectrum Instrument analytic for chemical composition, Yield Strength, Tensile Strength, Elongation, Hardness Test, Flattening Test, Flaring Test, Eddy Current Test, Ultrasonic Test, Hydrostatic Test, Corrosion Test, etc.
Parts of stainless steel rope workshop: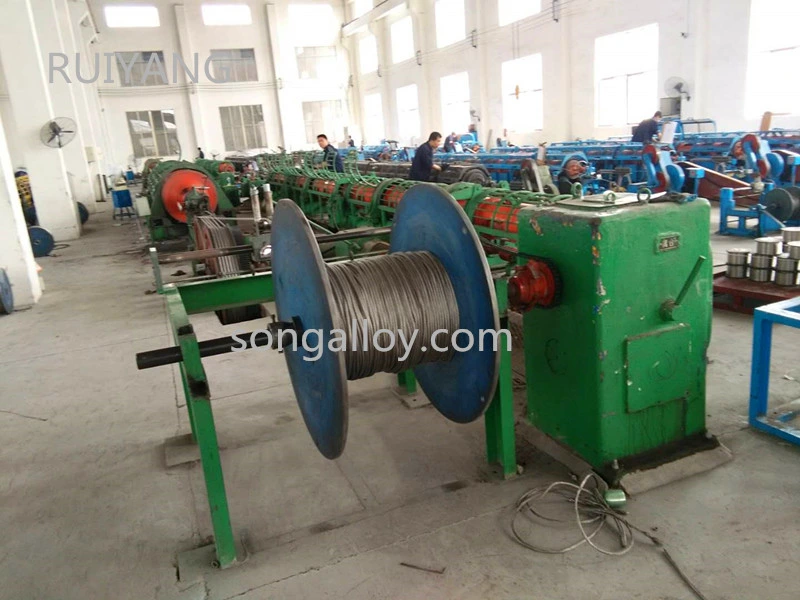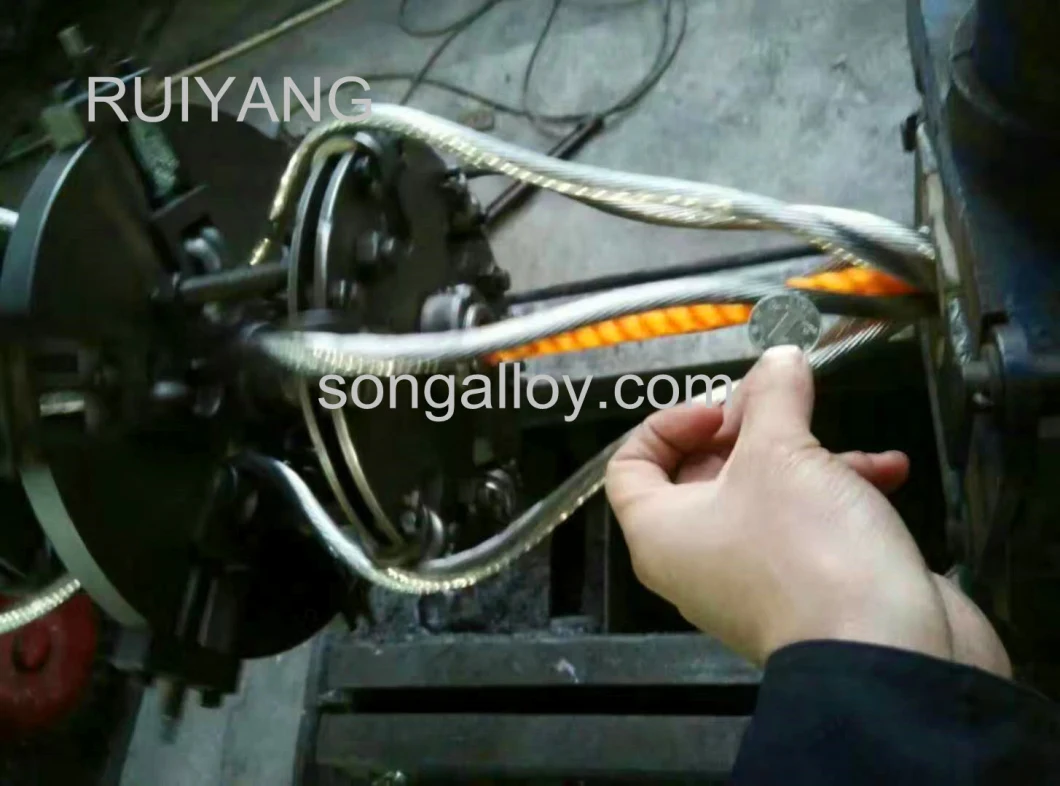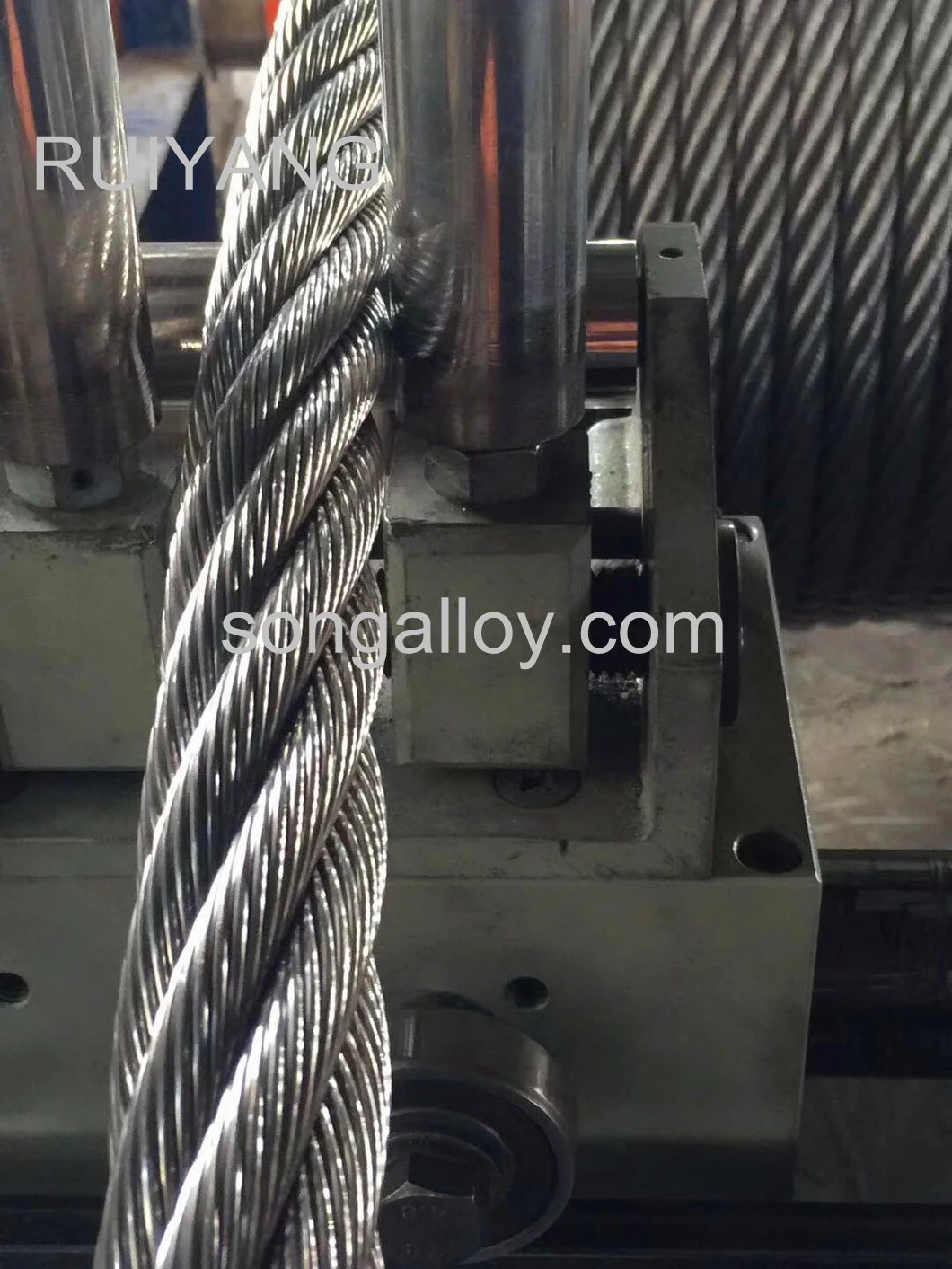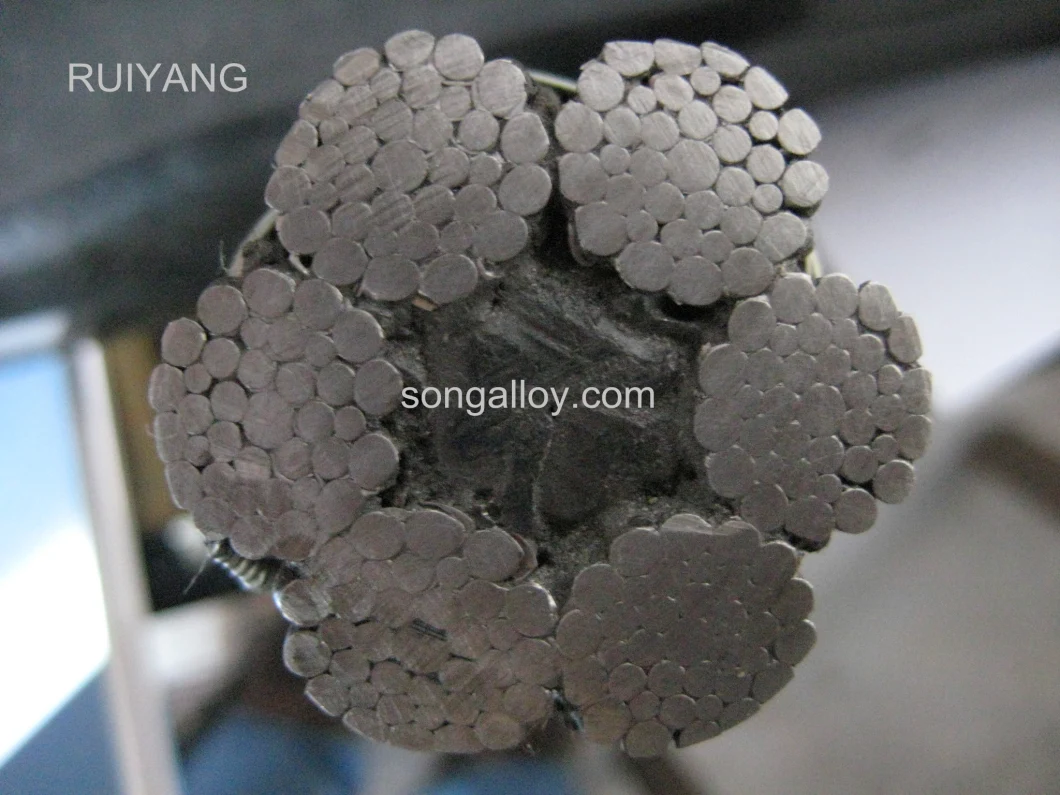 Package & shipping of stainless steel rope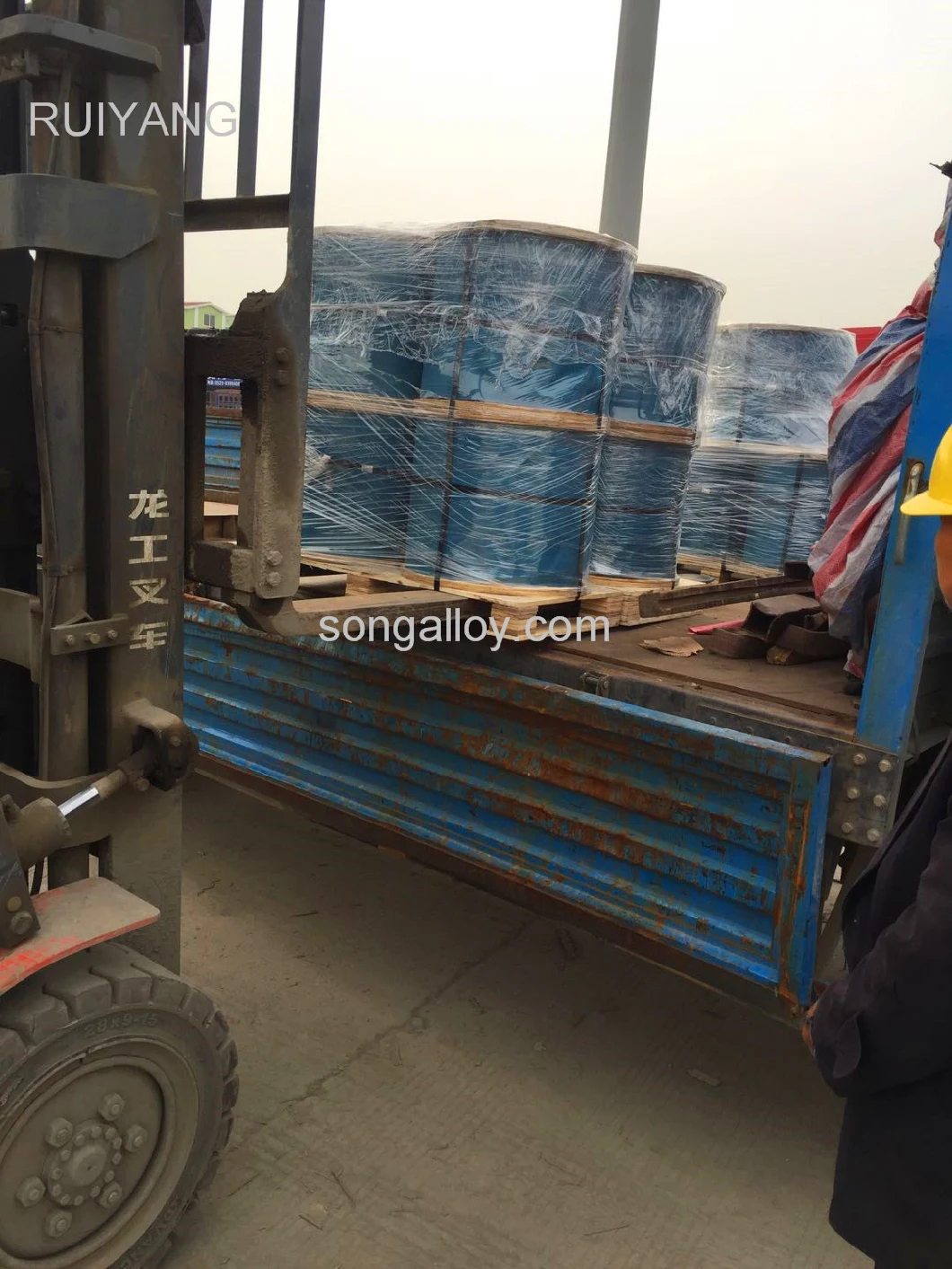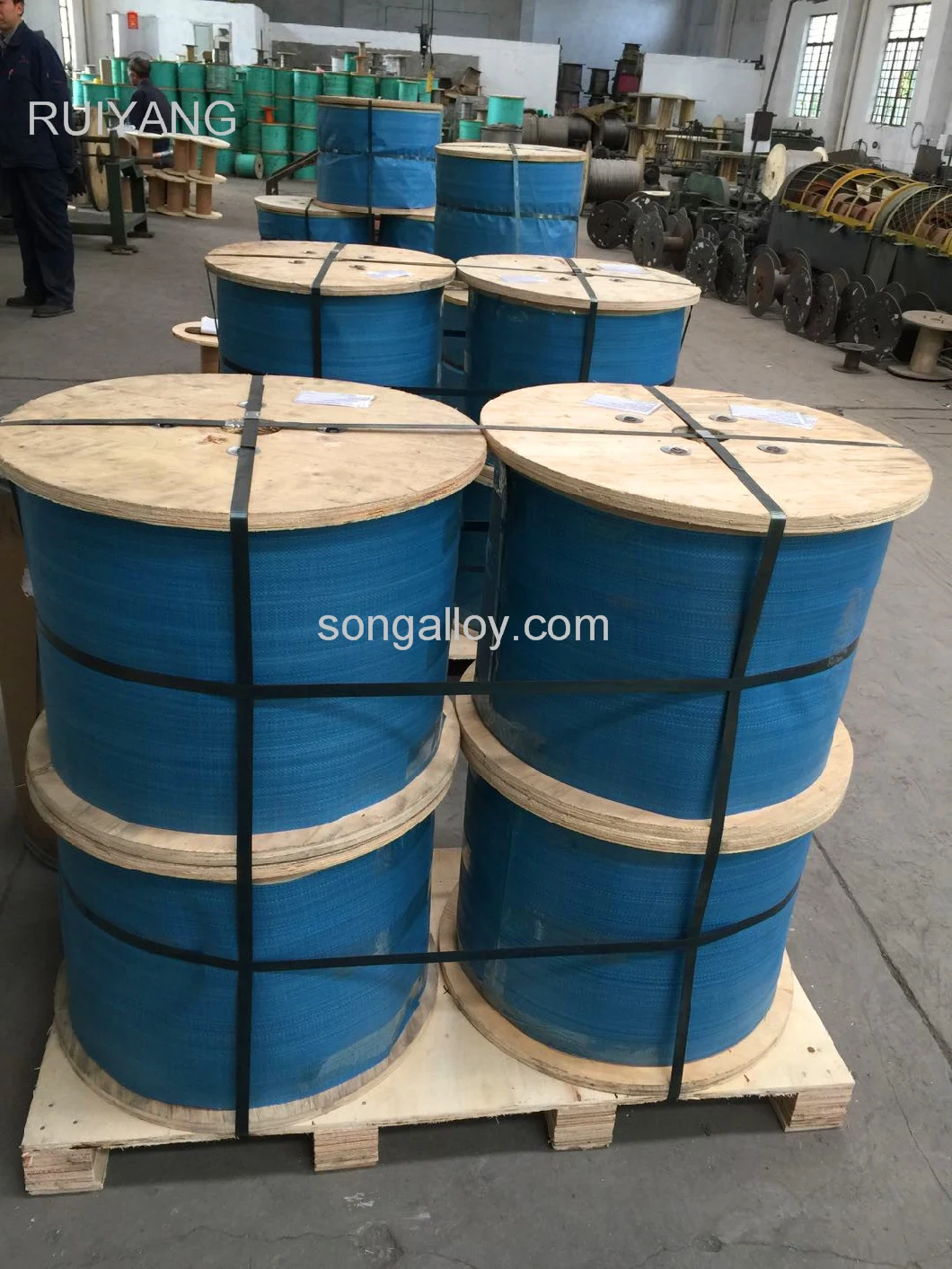 Material
Stainless steel 304 / 304L / 316 / 316L
Brand name
ruiyang
Construction
1 x7,1 x19,1 x37,7 x7,7 x19,6 x19S/W+IWRC,6 x36SW+IWRC,19 x7 etc.
Packaging
pvc or wooden reel, pallets, wooden box or customized
wooden or plastic spools and craft paper (inner)
stong wooden pallet or according to request(outer)
Standard
DIN , ISO, ASTM ,BS, JIS, NBR, GB, etc
Tensile strength
1470MPa/1570MPa/1670MPa
Main application
lifting, fixing, cableway, hanging,supporting, refloatation. haulage,
Should you are interested in our products, take action to buy or wholesale the quality large diameter wall thick stainless steel seamless rould pipes for sale in stock from our factory. Shaanxi Ruiyang, as one of the leading manufacturers and suppliers in China, has various sizes of products with competitive price at your choice.