COMPANY PROFILE
1.SGS and BV Audited company.
2.Industry experience over 10 years.
3.Management Systems-Internal Software
4.Finished Product Inventory-More Than 500 Tons.
5.Raw Material inventory -Over 800 Mertic Tons.
6.Shipment of goods -More than 30 countries worldwide.
7.We have the most convenient transport and prompt delivery.
8.We offer competitive price with best service.
9.We have high technical production line with top quality products.
10.We have win high reputation based on best quality products.
We provide Stainless Steel Plate, Stainless Steel Tube,Stainless Steel Barr
Standard: ASTM, JIS, DIN, AISI, KS, EN, etc.
Material: 201, 202, 301, 304, 304L, 304LN, 304H, 309S, 310S, 316, 316L, 316Ti, 316LN, 317, 317L, 316JI, 317JI, 310H, 304Ti, 309, 310, 321, 330, 660, 403, 410.
Company
Tianjin Yitejia Steel Sales Co.,Ltd.
Item
stainless steel plate,stainless steel sheet ,stainless steel coils
Standard
ASTM GB/T JIS4 ASTM EN.
Material
310S,310,309,309S,316,316L,316Ti,317,317L,321,321H,347,347H,304,304L,
302,301,201,202,403,405,409,409L,410,410S,420,430,631,904L,Duplex,etc
Brand name
TISCO,BG,ZPSS,LISCO,POSCO,NAS.
Technique
Hot Rolled And Cold Rolled.
Surface
2B,2D,BA,NO.1,NO.4,NO.8,8K,mirror ,checkered ,embossed ,hair line,sand blast,Brush,etching,etc
Thickness
0.1~200mm
Width
1000mm,1219mm,1500mm,1800mm,2000mm,2500mm,3000mm,3500mm,etc
Length
2000mm,2440mm,3000mm,5800mm,6000mm,etc
Package
Standard export seaworthy package,suit for all kinds of transport,or as required.
Container
Size
20ft GP:5898mm(Length)x2352mm(Width)x2393mm(High)
40ft GP:12032mm(Length)x2352mm(Width)x2393mm(High)
40ft HC:12032mm(Lengh)x2352mm(Width)x2698mm(High)
Price term
Ex-Work,FOB,CNF,CFR,CIF,etc
Export to
Ireland,Singapore,Indonesia,Ukraine,Saudi Arabia,Spain,Canada,USA,Brazil,
Thailand,Korea,Iran,India,Egypt,Oman,Malaysia,etc
Application
Stainless steel plate applies to construction field, ships building industry, petroleum,
chemical industries, war and electricity industries, food processing and medical industry,
boiler heat exchanger,machinery and hardware fields.Stainless steel plate can be made
according to the customers requirements.
Contact
If you have any question,please feel free to contact me .

MTC
Mill Test Certificate is supplied with shipment, Third Part Inspection is acceptable
Certificate
ISO, SGS, and third part inspection.
CHEMICAL COMPOSITION
| | | | |
| --- | --- | --- | --- |
| Company | Tianjin Yitejia Steel Sales Co., Ltd | | |
| Grade | Compositionnominal wt% | Elongation % | Hardness |
| 301 Annealed 1/4H 1/2H FH | C .15, Mn 2.0, P .045, S 0.3, Si .75, Cr 16-18, Ni 6-8, N .1 | 40 | 95 Rb |
| 302 | C 0.15, Mn 2.0, P .045, S .03, Si .75 Cr 17-19, Ni 8-10, N .1 | 40 | 92 Rb |
| 303 | C 0.15, Mn 2.0, P .045, S .03, Si .75 Cr 17-19, Ni 8-10, N .1 | 30-50 | 92 Rb |
| 304 | C .08, Mn 2.0, P .045, S .03, Si .75 Cr 18-20, Ni 8-10.5, N .10 | 40 | 92 Rb |
| 304L | C .03, Mn 2, P .045, S .03, Si .75, Cr 18-20, Ni 8-12, N .1 | 40 | 92 Rb |
| 305 | C .12, Mn 2.0, P .045, S .03, Si .75, Cr 17-19, Ni 10.5-13, | 40 | 88 Rb |
| 309/309S | Type 309 - C .2, Mn 2.0, P .045, S.03, Si .75 Cr 22-24, Ni 12-15, Fe bal Type 309S - C .08, Mn 2.0, P .045, S .03, Si. 75, Cr 22-24, Ni 12-15, Fe Bal | 49/ 44.6 | - |
| 310L | Mn 1.10, Cr 24.5, Ni 20.5 (nominal) | 40 | 95 Rb |
| 310 310S | 310: C .25, Mn 2, P 0.045, S 0.03, Si 1.5, Cr 24-26, Ni 19-22, Fe balance 310S: C 0.08, Mn 2, P 0.045, S 0.30, Si 1.5, Cr 24-26, Ni 19-22, Fe balance | 45/42/6 | - |
| 316 | C .08, Mn 2.0, Si .75, Cr 16-18, Ni 10-14, Mo 2-3, P .045, S .03, N .1, Fe Bal | 40 | 95 Rb |
| 316L | C .03, Mn 2.0, Si .75, Cr 16-18, Ni 10-14, Mo 2-3, P .045, S .03, N 0.1, Fe Bal | 54 | 95 Rb |
| 316Ti | C .08, Mn 2.0, Si .75, Cr 16-18, Ni 10-14, Mo 2-3, P 0.045, S 0.03, N 0.1, Ti 0.15-0.70, balance Fe | 248 | 76 Rb |
| 317 | Type 317 - C .08, Mn 2.0, Si .75, Cr 18-20, Ni 11-15, Mo 3-4, P .045, S .03, N .10, Fe Bal | 35 | 95 Rb |
| 321 | C .09, Mn 2.0, P .045, S .03, Si .75, Cr 17-18, Ni 9-12, Ti .7, N .1 Fe Bal | 40 | 95 Rb |
| 334 | C 0.03, Mn 1.0, P .02, S .015, Si .75, Cr 19-19.5 Ni 19-20, Ti .4, Al .4, Cu .2 Fe Bal | 40 | 82 Rb |
| 347 | C .08, Mn 2.0, P .045, S .03, Si .75, Cr 17-19, Ni 9-13, Cb+Ta 1.0, Fe Bal | 40 | 95 Rb |
| 348 | C .08, Mn 2.0, P .045, S .03, Si.75, Cr 17-19, ni 9-13, Cb+Ta 1.0, Ta .10, Co .2, Fe Bal | 40 | 92 Rb |
| 410 | C .15, Mn 1.0, Si 1.0, Cr 11.5-13.5, Ni 0.5, S .03, Ph .04 | 34 | 38-45 Rc |
| 416 | C 0.15, Mn 1.25, Si 1.0, Cr 12-14, P 0.06, S 0.15, Mo 0.60, Fe Balance | 15-30 | |
| 420 | C .15-.40, Mn 1.0, Si 1.0, Cr 12-14, Ni 0.5, S .03, Ph .04 | 15-30 | 53-57 Rc |
| 440A | C .60-.75, Mn 1.0, Si 1.0, Cr 16-18, Mo .75, Ni .50, S.03, Ph .04 | 20 | 57-60 Rc |
| 440C | Cr 16.5, C 1.0, Si 1.0 | - | 58 Rc |
| 13-8 Mo | Cr 13, Ni 8, Mo 2, Al, low C, balance Fe | 18 | 33 Rc |
| 15-5PH | Cr 15, Ni 5, Cu 3, Cb, balance Fe | 10 | 33 Rc |
| 15-7Mo | Cr 15, Ni 7, Mo 2, AL 1, balance Fe | 30 | 88 Rb |
| 17-4PH | Cr 17, Ni 4,Cu 3, Cb, balance Fe | 8 | 33 Rc |
OUR PRODUCTS AND PACKING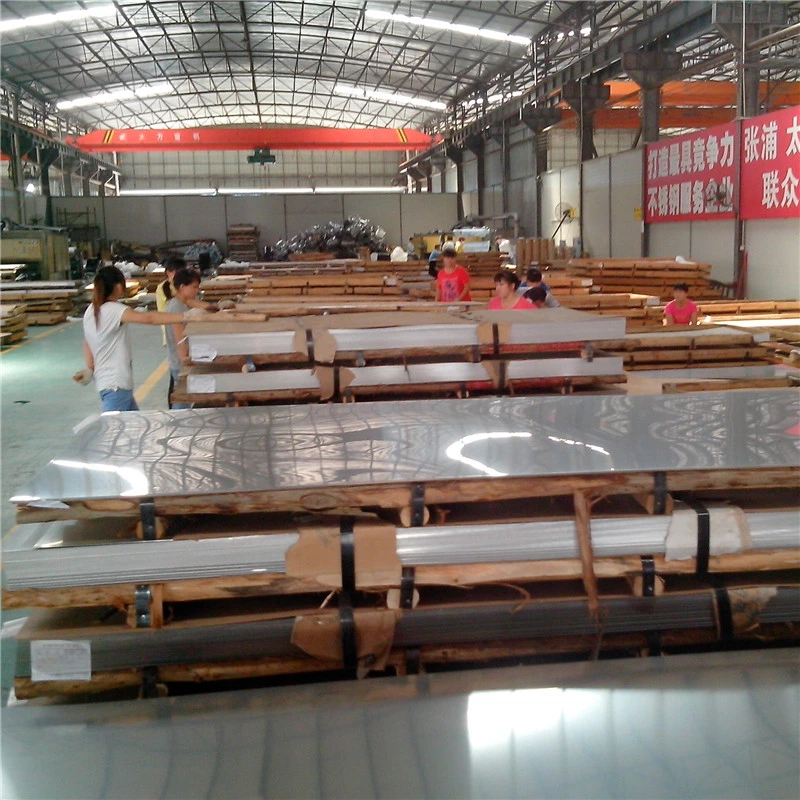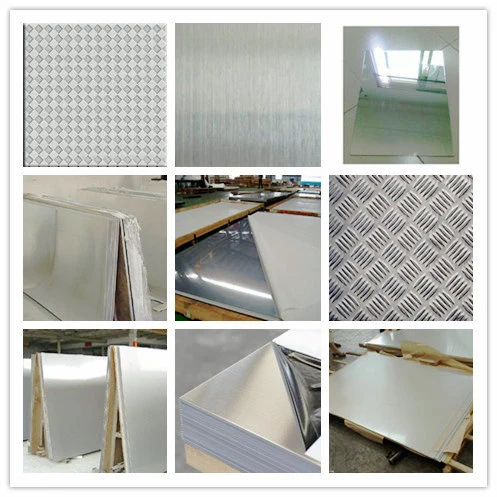 Surface and finish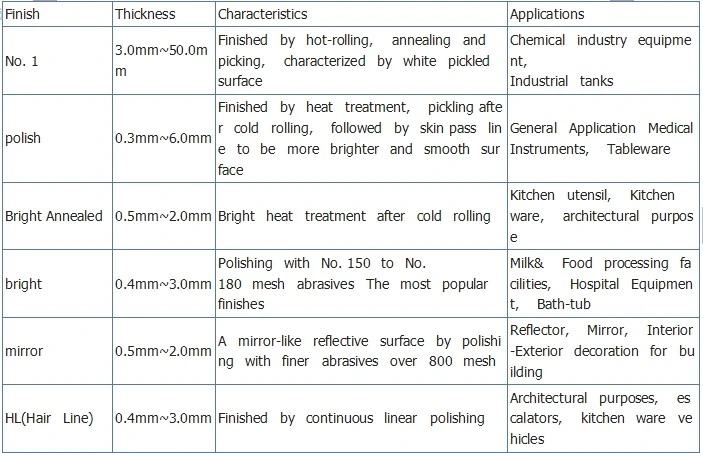 PACKING
Standard Coating: Paper Interleaved, PE or Laser PE Coating are available
· Standard Package: Cardboard encase the ends of the coil, with core and outer steel edge protection. Metal Straps are to be placed around coil and pallet timber, and align with metal edge protection
· Eye to Sky and Eye to Sides package are both acceptable
· Wooden Pallets or customized Pallets are acceptable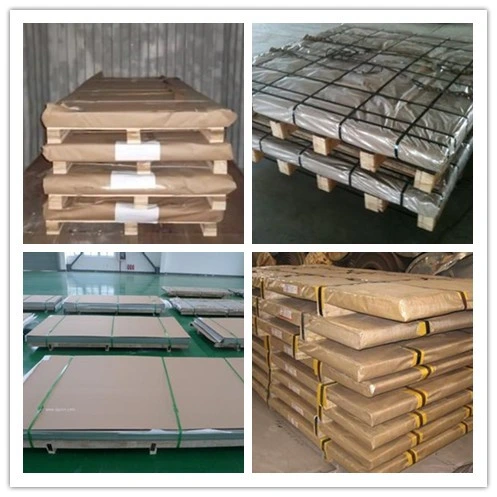 OUR CERTIFICATES AND OUR TEAM