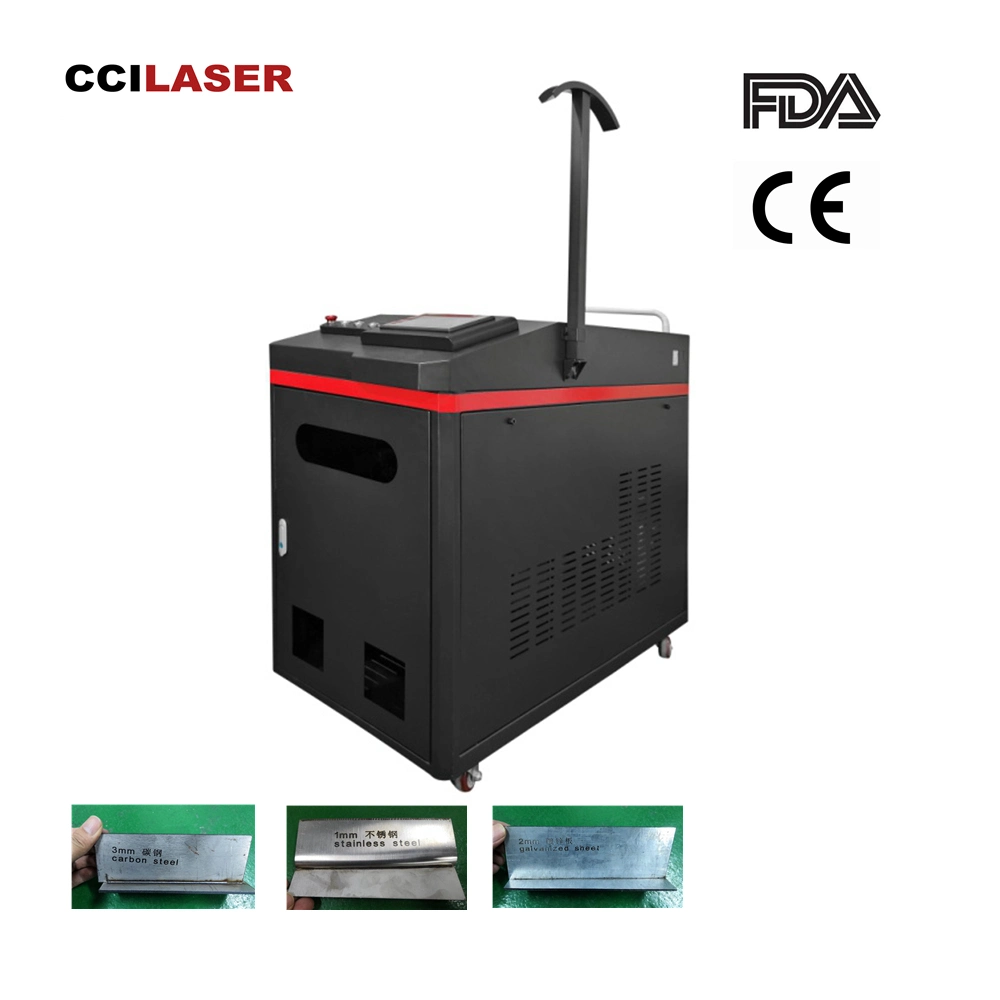 1. Feature:
Laser welding machine is one kind of processing method of welding materials with high energy density laser beam as heating source. It has the advantages of simple operation, beautiful weld seam, fast welding speed and no consumables.
In recent years, due to the continuous development of materials, technology and fabrication process, laser welding has been widely used in the welding of plastics, metals, etc. Besides, the laser welding machine will replace traditional welding methods ( such as argon arc welding) in automobiles, sensors, electronics industry.
Hand-held laser welding machine install hand-held welding head, which is similar with argon arc welding machine. It is flexible and simple operation, suitable for small batches orders. The laser welding machine can be widely used in cabinet kitchen and bathroom, stair elevator, shelf, Oven, stainless steel door and window guardrails, distribution boxes, stainless steel home and other industries complex and irregular welding process.
2. A
dvantage
:
2.1 Fast welding speed. 2-3 times faster than traditional welding process.
2.2 Less welding consumables, long life, safer and more environmentally friendly.
2.3 Weld seams are smooth and beautiful, no secondary treatment, saving time and cost.
2.4 Welding work piece has little thermal influence and no deformation.
2.5 The beam can be adjusted 0.5-6mm by swing the laser head, which makes up for the disadvantage of the laser welding spot, expands the tolerance range of the machined parts and the weld width, and obtains better weld formation.
3. Application:
Fiber laser welding machines are widely used in mobile communications, electronic parts, glasses, watches, jewelry, hardware products, precision equipment, auto parts, craft gifts and other industries. It can also be used for welding of many different materials, and can also meet the welding of different industries. demand
4. Case:
4.1 Manufacturing Industry.
Laser welding technology is widely used in auto industry.
4.2 Digital 3C industry
Laser welding has been widely used in the digital 3C industry, especially in the mobile phone microelectronics industry.
4.3 Medical industry
The welding seam of the laser welding machine for medical equipment is smooth and beautiful, and will not cause deformation of the welded product.
5. Welding Effects:
5.1 Laser Welding Machine for Carbon Steel/ Stainless Steel


5.2 Laser Welding Machine for Aluminium/ Galvanized Sheet

5.3 Laser Welding Machine for Copper

6. Main Components
Laser Source:
JPT/ Raycus/ MAX


7. Contact Information