Supply hot rolled annealed and pickled stainless steel angle bars for sale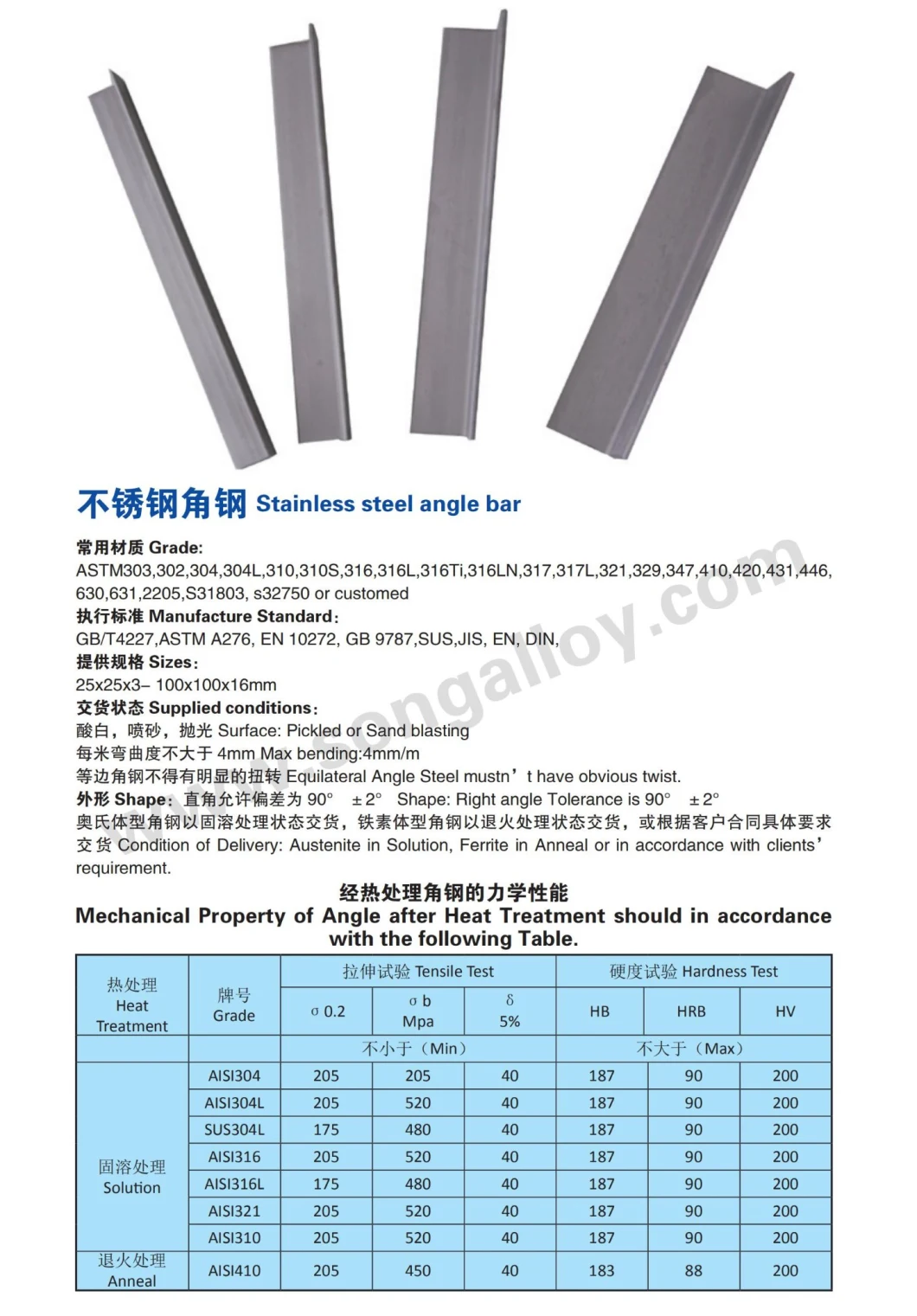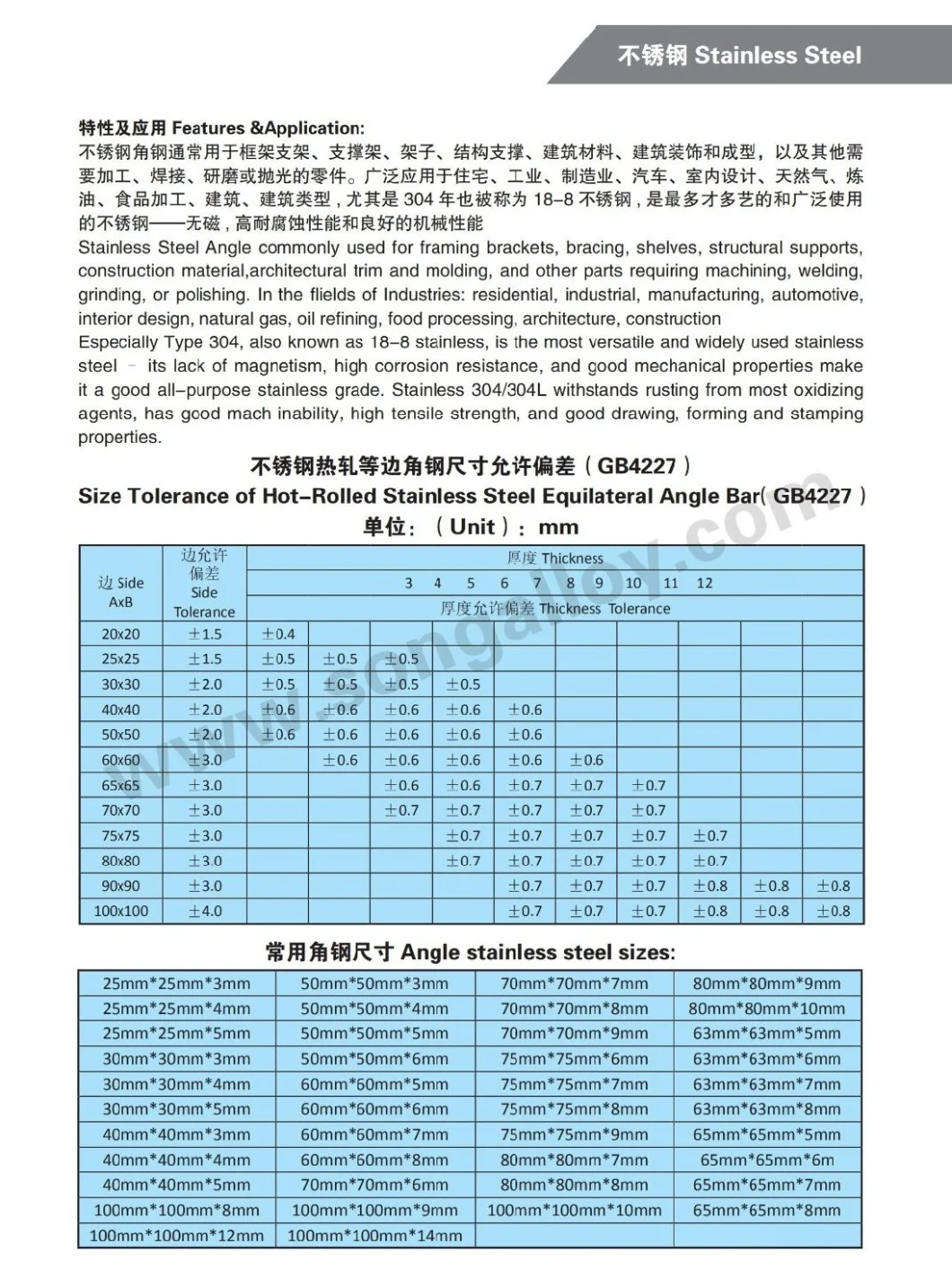 Application of stainless steel angle steel:
Stainless Steel Angle commonly used for framing brackets, bracing, shelves, structural supports, construction material,architectural trim and molding, and other parts requiring machining, welding, grinding, or polishing. In the flields of Industries: residential, industrial, manufacturing, automotive, interior design, natural gas, oil refining, food processing, architecture, construction
Especially Type 304, also known as 18-8 stainless, is the most versatile and widely used stainless steel - its lack of magnetism, high corrosion resistance, and good mechanical properties make it a good all-purpose stainless grade. Stainless 304/304L withstands rusting from most oxidizing agents, has good mach inability, high tensile strength, and good drawing, forming and stamping properties.

Features of angle stainless steel:
1)high corrosion resistance,
2)good oxidation resistance,
3)non-hard enable by heat treatment, solution treatment annealing, excellent weldability,
4)good machinability, good drawability, good formability,
5)high tensile strength, non-magnetic
Supplied condition: hot rolled annealed &pickled finished or blasting
Supplied ability:300Ton per month
Length:6meter usually or as per customer's requirements
Package: plastic and woven pack in bundles,each bundles weight no more than 2000kgs
Payment: TT30% down payment the balance before carrying Mill test Certificate supplied
Quality Assure:
1)Basic control(chemical components control) Guarantee of the chemical components:smelting and direct-reading spectrum test could guarantee the material chemical components is right for the clients' requirements
2)Process control:follow the process chart adding our workers' care

3)Inspection& Test:Direct-reading Spectrum Instrument analytic for chemical composition, Yield Strength, Tensile Strength, Elongation, Hardness Test.

Transportation: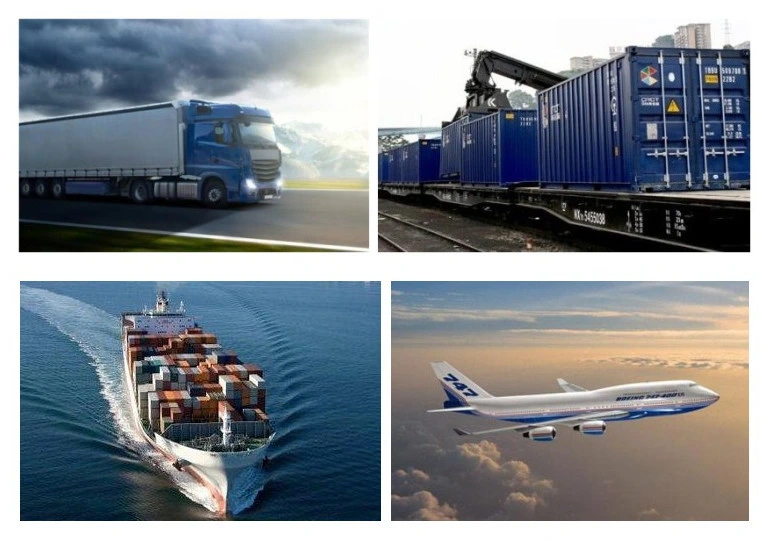 Should you are interested in our products, take action to buy or wholesale the quality hot rolled annealed and pickled stainless steel angle bars for sale in stock from our factory.
Shaanxi Ruiyang, as one of the leading manufacturers and suppliers in China, has various sizes of products with competitive price at your choice.